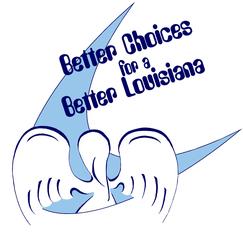 Every choice has a consequence. Too many choices made by our leaders have had bad consequences for our schools and our state.
Our state budget is in a crisis.
Partly because of the recent recession, but also because of poor choices made when the budget was in good shape, our state is facing its biggest budget crisis since the Great Depression.
In the coming year, we face a $1.6 billion deficit. Our leaders must make choices to ensure that the budget is balanced.
So far, they are only talking about cuts to education, health care and other public services that the families of Louisiana depend on. That risks serious, long-term damage to the state and our people.
There are better choices! We can create a sound economic basis for Louisiana, grounded in a transparent and balanced mix of responsible revenue measures and common-sense savings.
Public education is in turmoil.
The state seized control of many Louisiana schools, with little gain to show for the upheaval. Teacher tenure is at risk. Retirement, health insurance and other important benefits are at risk.
Privatization threatens the livelihoods of school support staff.
We are faced with untested evaluation systems that overemphasize test scores, larger class sizes and the devaluation of teacher credentials.
It seems that some of our leaders believe that schools can only be improved by blaming educators and tearing down the profession of teaching.
There are better choices! We can have an education policy that is based on reliable research and respects the professionalism and judgment of teachers and school employees.
This page is your "Better Choices for a Better Louisiana" resource.
From here, you can connect to the Better Choices for a Better Louisiana Coalition.
You can also follow the Louisiana Federation of Teachers' own effort to expand the concept of Better Choices into the way the LFT interacts with the legislature, the Board of Elementary and Secondary Education, and school districts across the state.  
Better Choices for a Better Louisiana legislative agenda
The BCBL coalition has crafted a legislative agenda and is working with lawmakers to enact the agenda into law. Click here to read the Better Choices legislative agenda.
Click here to view LFT's Facebook photo album of the May 4 rally and lobby day at the capitol.
Better Choices for a Better Louisiana Web site
Better Choices for a Better Louisiana (BCBL) represents a growing number of environmental, business, faith-based, labor, health, education, community, and consumer groups from throughout Louisiana that want to invest in Louisiana's future. (Click here to read more.)
Better Choices membership application and guiding principles
New coalition asks Jindal, legislature to stop relying on cuts
(Baton Rouge – November 18, 2010) A new coalition of concerned organizations today urged Governor Bobby Jindal and the legislature to take a balanced approach to meeting Louisiana's short-term and long-term needs, rather than continuing a cuts-only strategy that will cost jobs and hurt the economy. (Click here to read more).
Monaghan tells convention: Better choices for a Better Louisiana!"
Addressing some 200 delegates to the 46th annual Louisiana Federation of Teachers convention in Lake Charles on November 22, LFT President Steve Monaghan called upon Gov. Bobby Jindal and the state legislature to make "better choices for a better Louisiana." (Click here to read more.)
Experts challenge Jindal on budget cuts and revenues
Taking dead aim at conventional wisdom, two keynote speakers at the LFT's 46th annual convention made the case that Louisiana needs more money in order to fund vital services, and that voters will support raising revenues if they believe the money will be spent wisely. (Click here to read more.)
Follow references to the Better Choices campaign on LFT's EdLog. (Click here.)
Better Choices in Your LFT Connection
LFT President Seve Monaghan's letter to members on the topic of  Better Choices:
Your LFT Connection: February 2011
Your LFT Connection: October 2010
Better Choices downloads
Louisiana's Hidden Budget - The Louisiana Budget Project released this ground-breaking report in May of 2010. It describes the our state's long list of tax deductions, exemptions, rebates and incentives as another form of state spending, a budget item that amounts to over $7 billion per year.
LFT Better Choices commitment card
---
Additional Resources