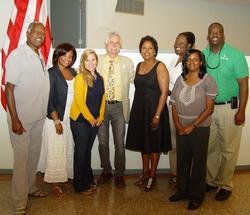 East Baton Rouge Federation of Teachers Group at Leadership Institute
Members of the East Baton Rouge Federation of Teachers and School Employees attended the 2011 Louisiana Federation of Teachers Union Leadership Institute on June 29 at the Plumbers Union Hall in Baton Rouge.
Attendees heard reports on the recently concluded legislative session and the state's budget situation, and made plans for back-to-school organizing.
Shown at the conference are, from left, EBR LFT President Carnell Washington, Andrea Benton, Julie Van Eman, LFT President Steve Monaghan, Angela Brown Rheams, Tiffany Ross, Vernon Bolden
The Louisiana Federation of Teachers represents about 21,000 teachers and school employees statewide, and is the largest education organization in the state.